I had such a horrible day yesterday. Seriously would like a do over. Today so far has been better, though I had to take my dog to the vet this morning to get spayed and now I'm worrying about her. I just need a few prayers today is all.
Please link your wordless wednesday with me today! Also, don't forget to link up with me for the
Photo Show Off: Love
.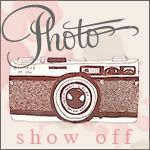 Make sure if you link up today, you grab one of my awesome new buttons!!

➛
Today I'm linking up with: