HELLO!! I have energy today people! And I'm down 5 pounds to boot. I think I've turned a corner on my
Ultimate Reset
! I will say though, I am afraid of this week and next week's food. No meat, no animal products whatsoever. Vegan eating. uh......scared. But I did find out I can drink a
Shakeology
as a breakfast!! (that shake is stinking delicious so I'm very excited!)
On to my Show Off for the day! (It's more of a Blog Show Off than a Photo Show Off, but that's really ok I think.) Meet my friend Lindsay who just started her blog,
Reluctant Houstonian
! She is wonderful, so dang funny. (no seriously, she's so hilarious you'll be trying not to pee on yourself) And she's got some of the cutest photos of her puppies and her hubbs! (She also makes ridiculously good cupcakes so, yeah. Hopefully she'll post some recipes up there soon!)
Please go check her out and give her a follow! The laughs alone will be totally worth it. :)
So what am I going to Show Off today?? Why, my nails of course. Lately I've been uber obsessed with painting my nails all kinds of fun artsy ways. I got on a water marbling kick a while back, but I've never been one for really painting my fingernails. Now my toes...I'd get those done all the time. And always with designs.
Well, I've always adored Giada DeLorentiis's nails, and I finally found out what she uses on her nails for such a beautiful manicure. Lots of people are saying Opi Bubble Bath, but NOPE.
Straight from Giada's Pinterest, I found out it's one coat of Essie Ballet Slippers and one coat Essie Angel Food! So I've been trying this...though I can't find Angel Food anywhere. (ugh!) I've decided that I like less of the creamy white look and more of the pale pink look, almost clear. (So my personal favorite right now is 3 coats of Mademoiselle or Sugar Daddy...top right photo) But I've also been getting brave with the colors...and to save money I've been designing on my own toes, which I realized I can actually do!! So here's my photos of my nail adventures lately! I've done neon, sparkly fade, ombre, geometric, Titans colors, and even zebra stripes! So fun!
how does the Photo Show Off work?
:
- follow, subscribe to, or become a fan of love bug.
- link up your photos!
- link back to the show off somewhere on your blog, using my button or just a text link.
- check out other links and leave comments.
- come back next week to show off again!
-if your photo was a Show Off this week, grab the button and show it off!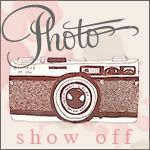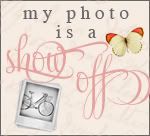 OH!! PS: I wanted to announce the winner of the
He, Me & Them Giveaway
!! Congratulations
Autumn Eden
for winning the free blog design from Natalie!!!