So did you participate this week in
Fat Mum Slim's Photo A Day
for June? I did! And I'm so proud of myself, I did it every single day. Of course, it took me making the Photo A Day words the desktop image on my phone AND my computer, but hey. Whatever works, right? Here's the words if you need 'em. Make sure you tag your stuff #photoadayjune if you're doing Instagram or Twitter!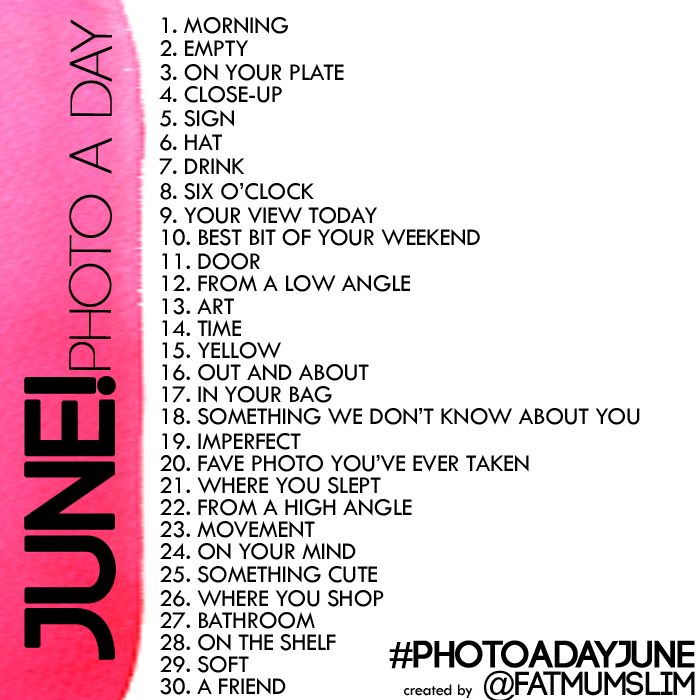 And here's my images for the week! I hope you'll link yours up too! I'd love to see 'em!
Day 1: Morning. No, I didn't get to drink a drop before I spilled it all over the garage floor. Not to worry though. I turned that car right around and got another. A quad this time.
Day 2: Empty. I guess maybe Day 1 could've worked for that too, huh?
Day 3: On Your Plate. So yummy except for the nasty chemical laden white bread!!
Day 4: Close up. Of my sleepy eye
Day 5: Sign. The sign pointing to our backyard. HAHAHA
Day 6: Hat. A cute little selfie for ya
Day 7: Drink. This is my water cup that never leaves my side!
Day 8: 6 o'clock. At 6 pm, I was putting together frames for the office and having my last glass of wine before the Ultimate Reset! I can't wait to tell you guys all about that!!