Just a little update for you all on how Project Healthy is going! Well, when I fell at that wedding a few months back, it created a ganglion cyst on my wrist, which hurts me every time I do a pushup or any weight bearing exercise on my arm. Then, to top that off, my ankle has been giving me real trouble. My doc is afraid the screw may be backing out since there's significant change in pain. So today, I'm off to the ankle doctor to get poked and prodded and see if I require more surgery or more therapy. I'm hoping it's the latter...
As you can imagine, because of all this, I've been told not to work out for a few weeks. BAH. That really throws a wrench in project healthy doesn't it?! Well, no, not really. I'm going to take advantage of it by starting the
Beachbody Ultimate Reset
! I'm SO EXCITED. And more than a little nervous...haha. In a nutshell, the UR is the all-natural alternative to harsh "cleanses" and starvation diets that returns your body to optimal health—naturally. Including supplements and a meal plan, I will be on a strict diet for 3 weeks to cleanse my body. And it's not "diet" in the sense that I won't be eating. Oh no, 5-6 meals a day like normal. But all ingredients are specific, natural, clean, whole foods. And yes, that does mean no coffee (AHH!) and no wine. (told you I'm scared)
But at the end of this, I hope to have more energy, feel better, my body can be back to taking care of itself well, and I can lose this afternoon nap I seem to need every single day. (And I can lose the incessant stomach aches and need for a million cups of coffee). The results I've seen from my friends have been ASTOUNDING to say the least! I'm talking cholesterol levels radically improving, weight loss of as much as 30 pounds (WHA!?! I know...) and a renewed energy that puts even my most hyper days to shame.
So, yeah. I'm excited. I'd be even more excited if you guys would do it with me!!! Who wants to?? Someone say yes, please!!! I need an accountability partner! HAH!
If you want more info, check out
this website for the lowdown.
Check out what it's all about on this video that I found:
Looking for a link up? Run over and link your photo up to the
Photo Show Off
this week also! Show off your best shots of anything and everything! I'd love to Show Off your shots next week!!!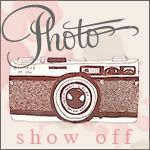 Today, I'm linking up with: