Let me just tell you how my week has gone. Ha! What an introduction, huh?
Bridal Extravaganza this weekend. Which includes long hours, heavy lifting, standing on my feet in pretty heels for multiple hours. Swollen ankle, aching hamstrings and feet, tired body. But oh, I love it. I really do. I have so much fun talking to the brides. Ask Jenny. I think the two of us might actually have a wedding addiction. I get so geeked up hearing about every idea and story! I'm starting to feel like a Wedding Crasher, no lie. Lol!
me....and Jenny (except I'm the clapper...hmmm. Might be Jenny...and me)
Ok so then Monday. Oh Monday. How I try to love thee but you continue to smite me. Jackson with his whooping cough and 103 fever. Doctors, X-rays, prescriptions. No pneumonia thank God. But little man feels rotten. My wrist appointment for the ganglion cyst. Needles to remove the fluid and burst the cyst. More needles for the cortisone shot. And Vicodin.
Up and coming this week? Finishing two edits in 3 days. Humph. A pre-op appointment for my ankle surgery in which I will pay nearly $900 just to take these screws out and be able to walk good again. (and stand at Bridal shows!) Trying not to catch Jackson's cough so we can actually go to Nashville on Friday for Titans training camp. Laundry, cleaning, broken dishwasher.
I'm feeling a little overwhelmed, not going to lie. But I'll tell you, I praise praise praise my God for giving me the photo job, for working with my best friend. For bringing me so many new brides to make into my new friends. For my Jackson, my miracle. For his sick cuddles. For stumbling upon the two best sports medicine doctors in Houston to fix my ankle and my wrist. (they are the doctors to all the major sports teams in Houston.) Oh and let's not forget how grateful I am to have a house to clean, a dishwasher to fix a job where I am my own boss and make my own schedule, however unrealistic.
Anyway, I am grateful. It's been a trying weekend and Monday but I don't know. God is still so good through it, you know?
photo courtesy of Carin Chit Chat Blog
Well. Because of the chaos I have no photos to share except ridiculously swollen ankles, needle punctured wrists and a sick boy. But I still want to show off some work from last week!!! And may I just say you guys are brilliant. Just so great at photography and blogging and I look up to each and every one of you that links with me. Man, oh man you are GOOD.
So this week I chose to show off these amazing ladies! Wowzers aren't these images insanely gorgeous??!?!
This first set is from the lovely and super creative Linda over at
Linda Kittmer's Fibre Art, Photography and Journaling
. Go check out her wonderful art, as you can tell it's SO good!! Look at those incredible sunsets and sunrises! Thank you Linda for linking up! Oh, and as far as your morning boat rides with your hubby...would it be awkward for me to ask to go with you?? haha.
Ok, does this texture and image not scream "Hang me on your wall!" to you or what?!? This masterpiece is from the sweetheart Mona from
Mona's Picturesque
. Her pictures are just...simply delicious. So soft, beautiful colors. And THIS ONE. This is a shot from inside a moving car!! WHA?! Ok girl, you have some skills. So I'm showing you off. Hope you don't mind!
I hope you all go visit these girls blogs and feast your eyes on some incredible art and photography. And make new friends too! That's what this Photo Show Off is all about!
OH!! PS: I want everyone to know that I will be on vacation in Nashville next weekend from Friday to Tuesday so this particular Photo Show Off is going to last 2 weeks instead of 1. I hope you'll link up both weeks, ok??
how does the Photo Show Off work?
:
- follow, subscribe to, or become a fan of love bug.
- link up your photos!
- link back to the show off somewhere on your blog, using my button or just a text link.
- check out other links and leave comments.
- come back next week to show off again!
-if your photo was a Show Off this week, grab the button and show it off!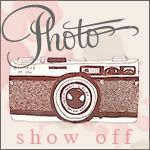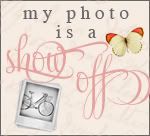 OH! And PPS:...guess what's coming up THIS week?? (Thursday to be exact!) Oh, you're going to be SOOOO excited! Here's a sneak peek!!
My wonderful sponsor
Kristy over at Life-N-Reflection
is going to be giving away a Web Design Package!! (!!!!!!)
☜
that was my silent EEK! YOU. GUYS. You want to get in on this, TRUST ME.
I KNOW I'll be seeing you on Thursday, RIGHT?!